Accessories
Towing Packages
At Quality Truck Bodies we take pride in our heavy-duty hitches and the easily accessible location of their mounting. Hitches we provide include: 2" receiver hitches; pintle-hook/ball combination hitches(1); rigid pintle hook hitches(2), swivel pintle hook hitches with spring(3), gooseneck retractable ball hitches, gooseneck trap door ball hitches, fifth wheel hitches; and king pin hitches.

Tarping System
Quality Truck Bodies can provide a tarping system specifically tailored to fit your body and application. Tarps available to choose from include shade pull type(1), side arm type-semi-automatic or electric(2), roll tarp type (right to left)(3), cable tarp type (front to back)(4), roll-off application type tarp; and tarping system for flat beds (converts flatbed into a van.)
1)

(2)

(3)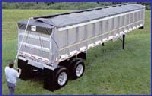 (4)

Tool boxes
We offer a wide variety of boxes including undermount boxes, top mount boxes, and cross mount boxes. Our undermount boxes feature stainless steel adjustable T-handle locks which provide more reliable closure, stainless steel hinges for longer lasting performance, and compression seals for dryer and cleaner enclosure. We feature Reading Body Works top mount boxes which are built to the same high standards as their service bodies and which come in a variety of sizes and options including slotted shelving, T-handles locks, and spacemaker top-opening compartments. We can also construct and design a box or boxes to your specific requirements providing the same integrity as the standard boxes which we distribute.
Cargo Control Systems and Equipment
Quality Truck Bodies can install any number of standard cargo constraint devices including winches and straps, E-track and F-track, rope rings and heavy duty forge lashing rings but we also can custom design a cargo control system specifically tailored to your product and body.
Ladder and Pipe Racks
At Quality Truck Bodies we fabricate our own ladder and pipe racks to meet the specific needs and application of each individual customer. Racks can be underbuilt and overbuilt. Overbuilt racks can needlessly reduce your vehicle's payload capacity while an underbuilt rack will not survive its intended use. We attempt to provide the appropriate rack for the application.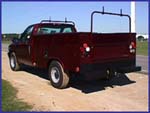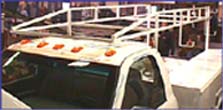 Cargo Van Outfitters
Quality Truck Bodies is a distributor of Masterack van products which include bulkhead partitions(1), tapered self units(2), drawer units(3), vertical storage units and ladder rack systems for full size and mini vans. Crown also offers pre-package units such as the "Contractor Package", "HVAC/Plumbing Package", "General Service Package", "Locksmith Package", "Cable TV Package", and "Electrical/Appliance Service Package". But if none of the aforementioned are suitable for your use one can be created to match your needs.
(1)
(2)

(3)

Specialty Lighting
Quality Truck Bodies can provide specialty lighting including work lights, strobe lights, flasher lights, arrow boards and light bars.